November 14, 2016, North Branford, CT – The SANSSpace LIVE (Live Interactive Virtual Environment) platform will be showcased in hands-on demonstrations this week at the American Council on the Teaching of Foreign Languages (ACTFL) Conference in Boston. SANSSpace LIVE, from SANS Inc. Software and Network Solutions, provides mobility for language teachers to engage students in active language learning in school and at home.
While the number of private and public schools across the country implementing mobile technology programs is rapidly growing, there is often a gap in the available solutions for world languages departments that need to integrate Chromebooks™, iPads® or other mobile devices into their curriculum.  SANSSpace LIVE fills this gap as a web-based instructional technology with tools for interactive language learning that can be used in any classroom or anywhere that students use mobile devices.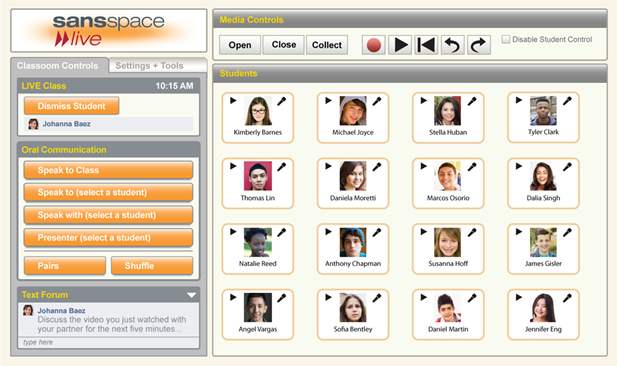 Language educators are very interested in the fact that when using SANSSpace LIVE with their students, more time can be spent on the development of L2 communication skills and competencies with their oversight to help and provide feedback to students.  Bonita Warren, LOTE Department Chairperson, at Hudson Falls High School, NY, said, "We have used SANS'  networked language lab technology for some time and have always been happy with its performance; however, recently HFHS has become a GAFE (Google Apps for Education) school and needed to move to a web-based platform. We chose SANSSpace LIVE knowing that students and teachers have the flexibility to work in the classroom and from home in pairs or groups. We are really excited about the possibilities and look forward to our students becoming more proficient in speaking and listening, thanks to SANSSpace LIVE."
According to Ron Remschel, SANS president, "We are extremely happy with the positive interest being shown in SANSSpace LIVE by language educators around the country.   Our technology development will continue to focus on tools that language teachers identify as necessary to help them engage students and build communication skills for real-world applications."
SANSSpace LIVE will be shown at the ACTFL Conference in Boston in Booth #1312, November 18-20, 2016.